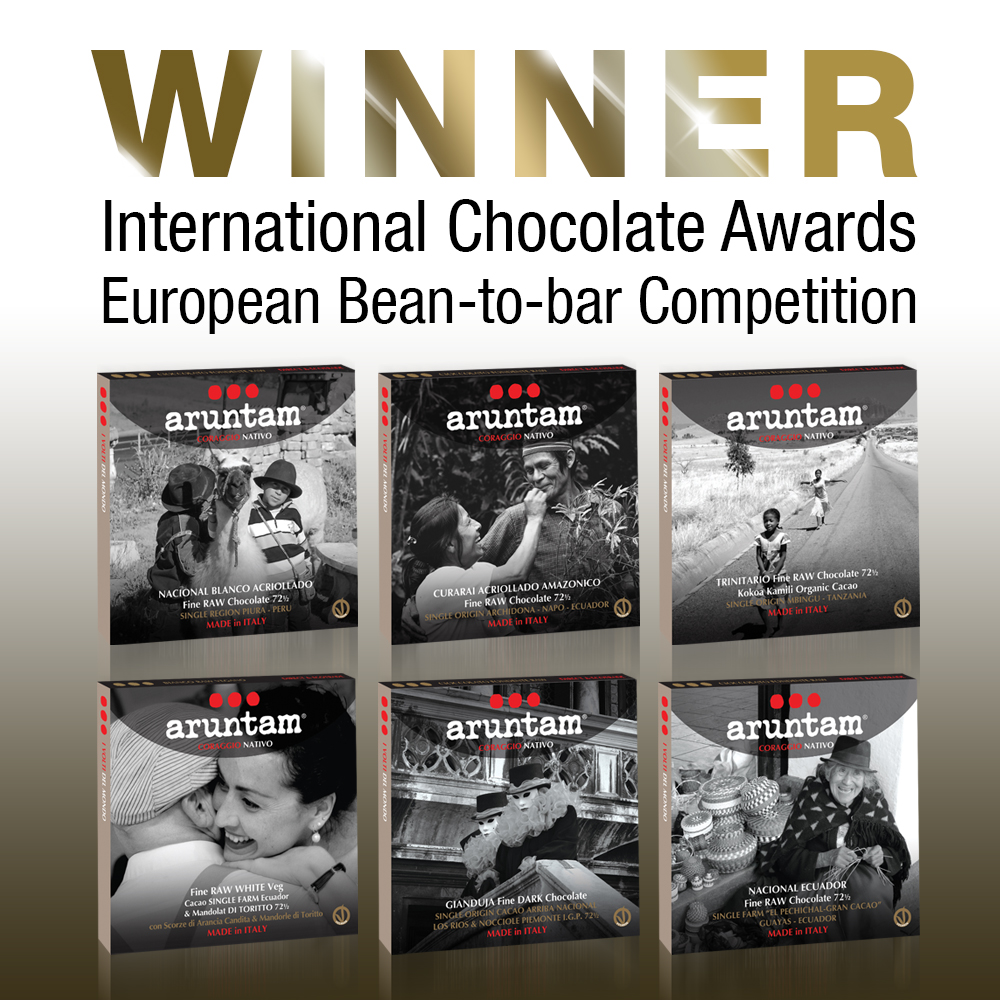 The International Chocolate Awards, one of the most important and renowned global competitions for gourmet chocolate has announced the winners of the European Bean-to-Bar Competition.
The Bean-to-Bar contest focuses on chocolate makers from all over Europe who produce their own chocolate bars directly from the cacao seed. Almost 500 bars participated in the competition and were evaluated by an international jury of confectioners, chef, chocolate tasters, journalists, and other chocolate specialists.
Joyflor srl has participated with the first micro –batch of Aruntam, the brand of its chocolate line, produced in summer 2017 for the presentation of the collection Corragio Nativo – Faces of the World. As a result of almost two years of preparation and work of a passionate team, who believed in their abilities and potentials, without losing the courage, to walk out and compete with the most important European  "chocolate makers Bean-to Bar", Aruntam succeeded in intent bringing home 6 prizes:
Plain /origin dark chocolate bars made with alternative natural sugar
Gold: Aruntam – Coraggio Nativo (Italy) – Trinitario Fine Raw Chocolate 72 1⁄2 Kokoa Kamili Organic Cacao Single Origin Mbingu, Tanzania
Silver: Aruntam – Coraggio Nativo (Italy) – Curarai Acriollado Amazonico Ecuador Fine Raw Chocolate 72 1⁄2 Single Origin Archidona, Napo
Silver: Aruntam – Coraggio Nativo (Italy) – Nacional Blanco Acriollado Fine Raw Chocolate 72 1⁄2 Single Region Piura, Perú
Bronze: Aruntam – Coraggio Nativo (Italy) – Nacional Ecuador Fine Raw Chocolate 72 1⁄2 Single Farm "El Pechichal – Gran Cacao" Guayas – Ecuador
'Naked' filled dark chocolate bars (filling only, no coating)
Silver: Aruntam – Coraggio Nativo (Italy) – Gianduja Fine Dark Chocolate Single Origin Cacao Arriba Nacional Los Rios & Nocciole Piemonte I.G.P. 72 1⁄2
White chocolate bars with inclusions or pieces
Bronze: Aruntam – Coraggio Nativo (Italy) – Fine Raw White Veg Cacao Single Farm Ecuador & Mandolat di Toritto 72 1⁄2
We are honored with these awards that fill us with joy and responsibility.
We are aware that this is only the beginning of a great adventure, the start that will give life to a big job to bring the Made in Italy Craft Chocolate Bean-to-Bar into the world.
We are happy that our chocolate line has been appreciated and understood because a chocolate like ours, which has embraced the philosophy of minimally processed, with the research and selection of cacao beans with particular genetic characteristics, with the distinction of genetic clusters, and which wants to make known more closely the vegetable aromatic notes of the cacao seed, is a product that still is to be explored and appreciated in its fullness.
The thought, that we did not know this world until just five years ago, makes us aware that great things can be achieved with passion, courage and competence. Faithful to our motto: "The sky's the limit".
In the coming weeks we will update you on the work done during this summer, and this new goal will certainly give us the power to continue the fight and follow our desire to get involved, because the love and passion that distinguishes us allow us to go ahead and overcome the difficulties we meet along the way.
A huge THANKS to the Joyflor Team "Aruntam": Dolores Gori, Mariela Lara, Lorena Laurenti, Pier Malanchini, Manuela Ritzberger, Lorena Rivera, Richard Salazar, Elena Ticozzi Valerio, Hugo Vazquez, and all our friends and professionals who follow us and have contributed with their skills to make this milestone possible.
Pia Rivera
CEO JOYFLOR SRL